Rating: 8 out of 10
Place of purchase: directly from Katadyn website
Length of Ownership: 7 years

CONS
– Price approx €350
– Weight 550g
– Hose output is quite short for filling your bottle.
PROS

– Effective and very easy to maintain once the water source is not full of heavy silt.
– Comfortable and Easy to use for personal use.
– Great durability and suitable for long term use.
People who spend a lot of time in the wilderness or the outdoors will understand the importance of clean safe drinking water. Without it your chances of survival are limited to about 3 days depending on the environment you find yourself in. I have often found that when my access to water is limited, my decision making and ability to carry out tasks can be significantly impaired, such as shelter building or getting a fire going etc.. which can lead to dangerous situations. Therefore, in my opinion a reliable water filter is one of the most important pieces of kit that you should carry. Having confidence and trust in a piece of kit builds over time. Having used this water filter for several years now, I can safely say it's built to last and very reliable, once it's maintained regularly and not used in very silty water. I'll now go through what I consider to be some of the pros and cons of this product.
PERFORMANCE
katadyn claim you can filter approximately 50,000 litres of water through this ceramic filter and it comes with a life time warranty. It's designed to remove any bacteria, protaza, viruses, cysts and micro-organisms that are greater than 0.2 micron. The parts are made from strong durable materials and it feels very sturdy when in use. It takes approximately two minutes to pump 1 litre of water. If the water is very dirty it becomes harder to pump and it slows the process down. On numerous occasions I've had to clean the filter after only pumping 5 litres of dirty water because the filter became clogged with dirt, but cleaning it is a very quick and easy process. The manual hand pump is perfect for personal use, but if your providing water for a small group of people, this can become tiring due to the level of resistance.
RELIABLILTY
This filter has been extremely reliable over the years. I've dropped it and stood on it but never had any parts break. However, it has failed to work properly on a number of occasions, but this was due to incorrect storage and poor maintenance on my part. This was easily fixed by simply following the manufacturers instructions and cleaning it properly.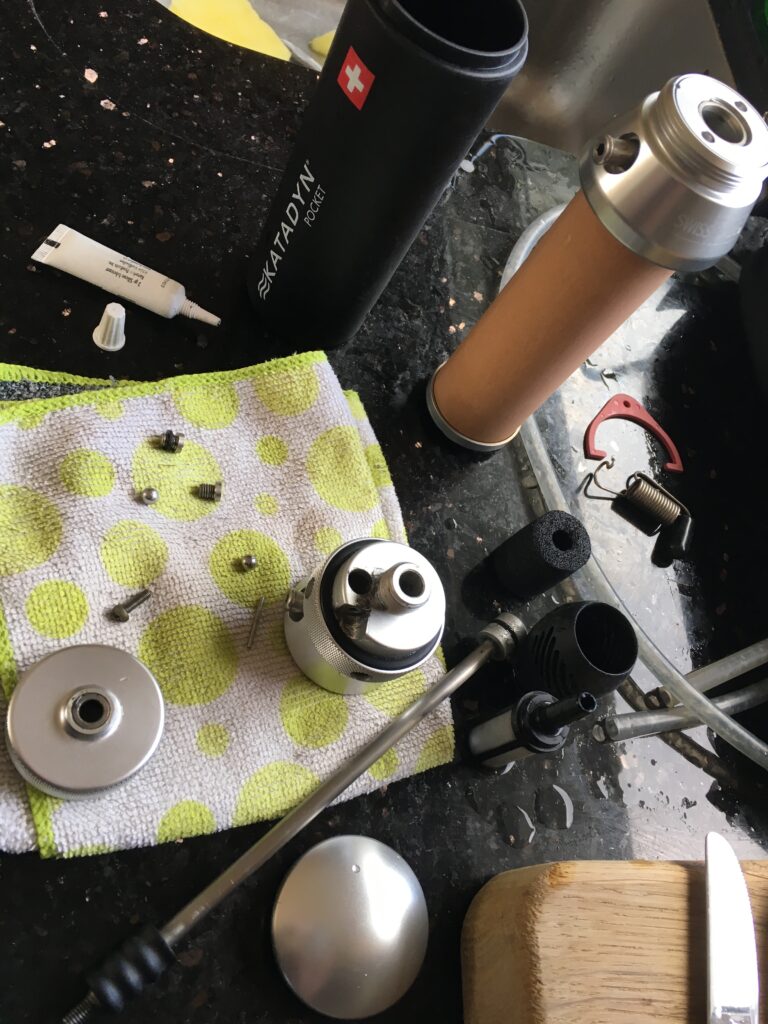 WEIGHT
Unfortunately the strength and durability of this product and the materials that it's made from make it quite heavy at 550g. Its really not ideal for use on long hikes in the mountains. I've used this on many types of adventures and found it worked best while canoeing or at a base camp were your not traveling too far to reach the water source. Personally, I don't mind carrying the extra weight once I know it's reliable.
VALUE
This filter doesn't come cheap, but that's the price you pay for a piece of kit designed for the toughest conditions. With all of it's moving parts made of metal, there is definitely lighter and cheaper alternatives on the market. But after all these years, I feel I've got value for money with the durability, ease of use and lifetime guarantee with this product.